Airship Update - July 2020
What follows is the Airship Community Update for July 2020, brought to you by the Airship Technical Committee.
SPOTLIGHT ON...
Last month the community elected the 2020-2021 Technical Committee. For more information, check out this blog post.
AIRSHIP BLOG
The Airship blog is a great way to keep up with what's going on in the community. The Airship community publishes blog posts regularly, including the new Airship 2.0 Blog series. These blog posts introduce the changes from Airship 1.0 to Airship 2.0, highlight new features, and detail each component's evolution. The first six Airship 2.0 Blog posts are already available, and illustrate the design thoughts on the road to the alpha milestone:
Stay tuned for more exciting news on the Airship blog series as Airship 2.0 progresses through the beta milestone and beyond!
AIRSHIP PROJECT UPDATE
Each quarter the OpenStack Foundation hosts a community meeting where the latest news about OpenStack and community projects can be shared. On 25 June, Airship presented a project update alongside OpenStack, Kata Containers, StarlingX, Zuul, and pilot project OpenInfra Labs.
Catch up on the community meeting with these resources:
The project update included:
WORKING COMMITTEE ELECTION
The Technical Committee is excited to announce the 2020-2021 Working Committee election! This election will follow the same two-week cycle that the Technical Committee election followed last month.
Nomination Period: 20-26 July
Voting Period: 27 July-02 August
Anyone who has had changes merged within the last 12 months to an Airship project is eligible to run for the Working Committee. Anyone who is a Core Reviewer of any Airship Project before the election will be eligible to vote for the WC candidates. There are no term limits, but any organization can fill no more than two of the five seats to encourage diversity. The Working Committee will meet regularly in an open forum with times and locations published in community channels.
For more details concerning eligibility, responsibilities, and election processes, please consult the Airship Governance.
AIRSHIP USER SURVEY
Are you evaluating Airship or using Airship in production? We want to learn from your experience! Take the Airship User Survey; the Working Committee reviews each response and helps us to grow and mature Airship. We will present the 2020 survey results at the Fall Summit in November. Take the Airship User Survey today to be included in this round of analysis.
AIRSHIP 2.0 PROGRESS
The progress shown below is for airshipctl, the new Airship 2.0 client.
Last month, airshipctl saw the following activity:
12 authors
37 commits
208 files changed
5,508 additions
457 deletions
34 closed issues
12 new issues
This activity is contributing to the beta milestone, below is the overall status of the beta milestone: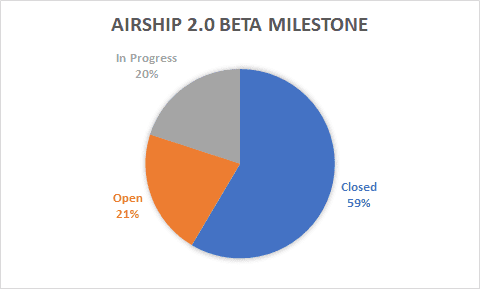 GET INVOLVED
This page lists everything you need to know to get involved and start contributing.
Alexander Hughes, on behalf of the Airship Technical Committee